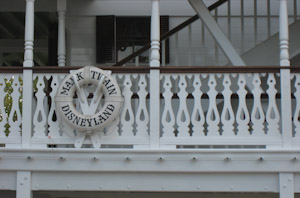 Ahh, Disneyland :-) At the end of March I got to go to Disneyland with Maria! I had to be in SoCal for work, so I thought it would be nice to take a few days to go to one of my favorite places on Earth! It is always so relaxing there. Your cares fade away to the background. Your biggest concern is how to dry off after going on Splash Mountain and to find where the nearest churro cart is. It is always sad to go back to the real world at the end....
Jessica was a *great* sport about my going. She is so far along with Bun that she is past her travel expiration date. I really needed a mental vacation, so she had no problem with me going. I was able to fly Maria down from Seattle for the weekend -- we had a great time together! But we did miss Jessica and Bun. Maria and I ended up spending a lot of time looking at other people's Buns.
It was quite the experience to see these big burly tattooed men holding Buns and giving them besos. Everyone loves Disneyland!
Maria and I did all kinds of stuff -- we experienced an awesome application of electromagnetism - launching up the hill of a roller coaster (Maria has to teach it to her fourth grade students), ate clam chowder in a bread bowl, and enjoyed the cherry blossoms.
I'd never been to Disneyland at that time of year -- it was a special treat to see the pink cherry blossoms together with the pink castle.
The next time I'll be at Disneyland will be a few years from now with Jessica, Bun, and maybe a sibling for Bun! I know that they will love it. It will be a completely different experience to go their with kids! It will be a great experience to see it through their eyes. Soon!