I admit it. I'm a Michael Jackson fan! And I have Jessica to thank! I don't know what it is, but over the years, and especially since he passed on, I've become a big Michael Jackson fan. I don't know why. But I love it! I'm a manly man, so I can admit the next part -- once in a while I'll tear up during some of his slow songs.
If you have any history of growing up in the 80's -- the white glove, the red leather jacket, moonwalking, and all the rest, you most likely have a place in your heart for Michael too.
There is something about his best music that is timeless. Billie Jean. Human Nature. You Are Not Alone. All amazing.
When he was working on This is It!, what was to be his last concerts, I was thinking of surprising Jessica with a trip to London to go see him. We have to do something with our frequent flier miles? Why not something like that? It would have been a truly amazing experience. I highly recommend it if you're curious at all -- especially the Blu-ray edition with the stereo turned up.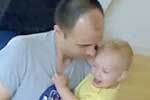 Jessica and I have been indoctrinating Milo as well! He loves him! He'll sway when he hears Michael come on. While I don't have a video of that, I do have a video of me and Milo dancing to Michael. We have some security cameras in the house, so I pulled the video off of the cameras. And let me tell you, we can dance! OK, not really. But for you Milo + Michael fans out there, it is a good watch.
Total run time: 19:35
Billie Jean #1: 00:00 - 04:53
Billie Jean #2: 04:53 - 09:47
Human Nature: 09:47 - 13:57
You Are Not Alone: 13:57 - 19:35