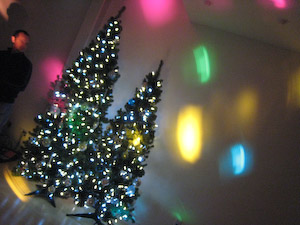 I really can't believe how fast time goes by. Christmas 2007 has already come and gone. It was quite a Christmas to remember!! Jessica and I had the privilege of hosting my entire family here in our new house. In freezing cold Ottawa.
It was the first time we'd had a house full of people. We gleefully found that it is very possible to have six adults in the house without stepping on each others toes (well not too much stepping anyway). We each had our moments of frustration. But they were just that -- moments.
I do miss my family. While I do very much like being in Ottawa, sometimes it is hard to be so far away. It was funny that we slipped right back in to our old roles. I want things to be just so. Padre goes out in the morning for his exercise and his coffee. Marpoo is loud -- and now, Jessica helps!
One of the highlights of their visit was piling in to two cars (Jessica's fancy Audi A3 and a not-so-fancy Suzuki Swift rental) to drive down to the Thousand Island region between New York and Ontario. The temperature was right around 0C. While we drove, a fresh snow fell from the sky, adding a delicate cover of snow to the trees the lined the road. During our journey, we even stopped by the side of the road to have a snowball fight. Well, Gary, Jessica, Maria, and I had the snowball fight anyway. My Mom stayed in the car because she is a tropical flower from Mexico.
Christmas Dinner saw Jessica and I cook Chicken Adobado for 11 adults, one 2 year old, and one baby! It was the first time we had ever had that many people over for dinner. The house really shined here as well -- we bought another beautiful temporary table from Home Depot and put it end-to-end with our regular temporary dining room table from Home Depot. Everyone fit with room to spare! And while some people may have been expecting turkey dinner, everyone loved the Chicken Adobado.
Who knows where the Manca family will be next year for Christmas. Maybe it will be in Ottawa again. Maybe in Seattle. Maybe in Mexico. A lot is bound to happen in our personal lives by then. Stay tuned to mancascafe.com for the details!
There is a full Manca Christmas in Ottawa slideshow, documenting all of our exploits.