Laney's regular doctor diagnosed her as having only a *stretched* ACL. Several weeks have passed and she's putting more weight on the wounded leg. If it were torn, she would not put any weight on it at all. She seems happier, and is running around like her old self.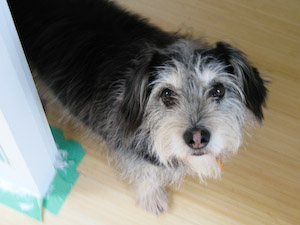 The doctor has her on pain medication daily, and we're still limiting the amount of human and kitty interaction she has to help her rest.
One positive side to all this is that we're training her not to jump up. It's working. So after all these years, Laney is getting more obedient. It's only been 10 years in the making, as she just celebrated her birthday this month. Happy Birthday Laneybeda!