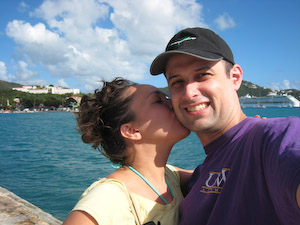 We're back from our Caribbean cruise on Royal Caribbean's Adventure of the Seas. We had a great time! It was so nice to be down in a warm climate away from work and away from the snow. Us and 3600 other like-minded people had a lot of fun on our Southern Caribbean itinerary. We departed San Juan, Puerto Rico, and went to Aruba, Curacao, St. Maarten, and St. Thomas.
We've posted our pictures of the cruise so you can check them out! I know that we'll periodically go back and look at the pictures to pretend we're on vacation again.
Today is Sunday, and the next group of cruisers have returned from their cruise. Time is flying! We actually wanted to go this past week, but it was $1000 cheaper to go the week we did. Spring break must be kicking in for people which must contribute to the higher cost. Needless to say, for $1000, it was worth going a week earlier.
Sometimes one thing that hits us when we go on vacation is that at first we aren't necessarily quite ready. The staff on the Adventure of the Seas did an excellent job of creating a festive atmosphere with tons of things to do. Everywhere you turned, there was a live band, recorded music, raffles and bingo competitions, sports events, shows, etc. We just weren't ready for the noise and the hustle and bustle when we first got there. We found a quiet corner in the lounge on the very top deck overlooking the rest of the boat. It was nice to sit up there and check out the rest of the boat. We also spent a lot of time on our balcony. It was really worth spending the extra money to have your own private place to overlook the water!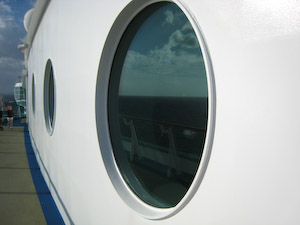 One of the things that we read before we left said conventional cruise wisdom is that if your boat has assigned seats for dinner (ours did), that your table mates can make or break your dining and cruise experience. We were assigned to Table 405 and saw we'd be seated with three other couples. We ended up with a great table! We had couples from New Orleans, Dublin, and New Jersey. The wide variety of personalities, experiences, and political beliefs led to many lively nights of conversation. You know you're having a great time with new friends when they raise the house lights and start making announcements to the wait staff -- we realized we were the last group there on many occasions!
On interesting thing about the cruise is that all of your food was free. You had to pay for drinks (both alcoholic and non). The thing with free food, is that too many people eat more than they should.
Case in point is on the second day we went to a burger place they had on the boat. When we sat down they gave us onion rings. We proceeded to order two hamburgers and an order of fries to split. The waiter was very attentive, but spent a little too much time asking if we had enough food. Even when we were done with our burgers, he asked us if we wanted more onion rings or even another hamburger. After having a 1/2 pound burger each, we were done. He asked us so often, it got to the point of annoying. The only thing we could think of is that because everything was free, lots of people end up getting that second burger. And judging by some of the bodies we saw laying out on deck, we wouldn't have been surprised if it was true.
With all of that said, we did eat and drink too much. I gained four pounds. And that is even after taking the stairs whenever we needed to change decks, windsurfing in Aruba, and kayaking in St. Thomas. Oh well. We're now working on taking it off.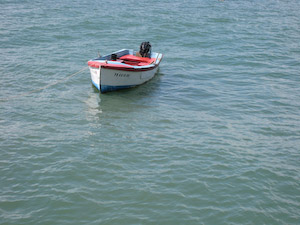 It is hard to choose a favorite of all the ports we went to. One of the places we had a really good time in was the port we departed from -- San Juan, Puerto Rico. We spent the day of the sailing walking around the old town. After lunch, as we walked to El Morro, an old Spanish fort, we saw many many families flying kites in the park. And they were selling kites at the entrance! I whipped out my rusty Spanish and bought a $4 kite of Bloo, an imaginary friend on the Cartoon Network. Jessica and I had the best time flying Bloo! It was a throwback to a simpler time when neither one of us had a care in the world.
In Aruba, our first port-of-call, we went windsurfing! Jessica was really nervous about it because she is not a fan of deep water. But in the area we went to, on the Northern tip of Palm Beach, you could stand when you fell off your board. The staff at
Aruba Active Vacations did a great job of getting us up on the boards. By the time both of us were done, we were able to windsurf up and down the beach. It was such a fun experience!
In Curacao, we had another adventure. We went on a
Semi-submersible boat near one of the beaches. It was great fun! It was an easy way to see the fish and coral of the region. And after the 1/2 hour cruise, we went to a local restaurant on a small beach. It was excellent to just sit by the water, drink a few Amstel Brights, and waste a few hours.
The oil refineries on Aruba and Curacao were one of my biggest shocks. Venezuela sends some of it's crude oil to the islands to be processed. I just hadn't expected the islands to be part of the global economy like that. I shouldn't have been shocked -- they can't live on tourism alone. On certain parts of the island you could see many many many smokestacks rising from the ground and doing their duty of processing oil.
The one excursion that we booked through the boat was on the island of St. Maarten. We got on a few buses with at least a hundred others to go out to Orient Beach -- St. Maarten's famous clothing optional beach. We didn't see any nudists there, and we didn't try it ourself either. Maybe next time. One of the memorable moments of the trip to Orient Beach was our tour guide on the bus. She was a hilarious Italian woman who had lived in the UK. She had this really strange accent that made the spiel she was giving extra engaging. She said that she came to St. Maarten one day on vacation and decided to stay and live. Both Jessica and I can see why. Maybe we'll do something similar some day :-)
Our favorite island was St. Thomas. We're a bit partial to Hawaii, and St. Thomas reminded us of it! It had mountains that went straight down in to the sea. I love that type of study in contrasts -- tall mountains and the ocean below. On St. Thomas we ended up going to Maegan's Bay. We took a taxi/bus from the pier after the excursion we booked got canceled to to high waves. Even though the beach was busy, it provided us with a beautiful horseshoe shaped bay for us to relax on, go swimming, and even try our hand at kayaking. We didn't wan to leave!
One thing we found out is that we did just fine without booking excursions on the boat. The only excursion we did book was to the beach at St. Maarten. With a little planning, and a few cell phone calls once we arrived at each port, we had lots of fun on our own. We saved some money in the process. Not a ton of money, but some. What we did gain was relatively unique experiences!
Although we liked our cruise shi, I will say it could have been a bit more solid in it's theming. Theoretically it had a Venetian theme to it. There were some nice touches, but there appeared to be too much going on unrelated to the Venetian theme. And while the Royal Promenade was a nice interior common area, it didn't follow the theme, and had way too much busyness to it. We did like the boat though -- by the end of the cruise, we'd gotten very attached to it!
Jessica and I left Puerto Rico and its 27C (80F) arrived back in Ottawa to -18C (0F) -- what so far seemed to be the coldest day of the year. It was quite a shock to get home to that!
We've already gotten an email from Leslie and Allen, our new friends from New Orleans. Leslie says that she is already trying to convince Allen to go back this Thanksgiving. I'm sure it wouldn't take too much convincing for us to go back and experience it all again -- good times with good people!