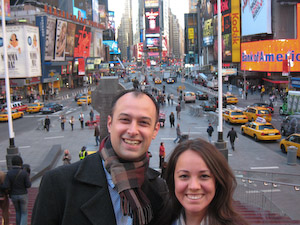 What an amazing, and yes, relaxing weekend in NYC! Mark and I had both dreamed of visiting New York for longer than a transfer to another flight.
Mark and I did everything we could - Statue of Liberty and Ellis Island, Empire State Building, Central Park, walking around Manhattan, the subway, saw a show called Fuerzabruta, and most importantly visited my old friend Minal!
While in town, we also managed to go shopping for the biggest maternity store around (3 stores, 3 levels!) and to drop off my US ballot to confirm my absentee hopes of getting Obama in office - it worked!
We've posted our pictures so you can see all the famous sites too! There's a funny one of us at the Empire State Building!