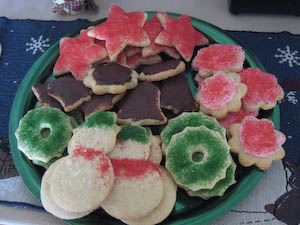 Click photo to see slideshow
December 19, 2008 - Mark and I try to leave Ottawa airport for a US tour: Harlingen Texas to Seattle to Portland and back to Ottawa. Only the weather this year had different plans for us. Our flight was cancelled when we arrived to the airport. We planned on flying Newark > Houston > HRL.
Instead, in a brave effort by Lovu, we drove to Detroit. Yes, we drove through the snowstorms in Toronto which were coming towards Ottawa in the next 48 hrs! The drive is supposed to take 9 hrs. It took us 12. Had we not drove, we would have missed the entire leg of the tour. NWA was planning on rebooking us 3 days later. With Ottawa expected to get over 25cm, we took our chances!
We arrived in Detroit's new remodeled airport at about 3:45AM. I have never seen an airport so tranquil, calm, clean and without people. It was like the airport had just opened for the first time ever! We rested, and waited 3 hrs for our 7:30AM flight to Houston.
We arrived safe and sound in Harlingen, only 12 hrs later than we originally planned. It was good to see my family and of course, my Wheetie!
My mom planned a lot of cooking and baking including her homemade apple pie, sugar cookies, mexican wedding cake and Christmas tamales. We all helped to make the tamales. Mark loved it!
Mark and I bought Melissa a kite, and took it out to a nearby park thinking there would be plenty of wind. Unfortunately, we had little work with. Our kite bluey is lightweight that it didn't do too bad. Some pics of Melissa and Mark playing was a nice getaway.
We did some shopping for Christmas and for Bun. We got Bun's first stuffed animal - a Giraffe!
Notice we were wearing jeans and short sleeves. Temps were in the high seventies and even mid eighties by the day we left. Ahh. I love the heat!
We also visited the site where my grandmother is at. We gave her a Christmas wreath, which she loves because her and Wheetie would always make them together.
Christmas morning, Mark and I planned a little surprise for the family. We had a few special gifts for them. Melissa kept modeling her new gifts for the camera. It was so funny!
Next, we went to Padre Island on Christmas Day. It was wonderful! We noticed all the hurricane damage on the hotels and tons of sand that had moved several hundred feet onto the shore.
The trip seemed really short, but I saw my uncle and cousins too. Wheetie is doing fine, and still strong. I miss them all! Next time we see them, our little family will be one person bigger!