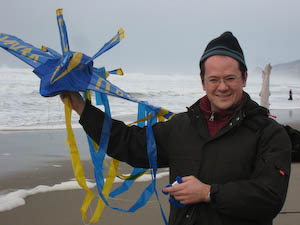 Click photo to see slideshow
December 27 - Our second part of the trip landed us in Seattle to see the Mancas! We had Christmas while in Seattle before we headed to cottage at the Oregon Coast. We thought this would save on the amount of stuff to haul to the Coast. Only our main gift to the family was some "Badass Crabbing" logo shirts for everyone.
Later that Saturday, we hung our with our favorites - Scott and Julie. We ate at Spuds, grabbed a Tullys and then played Wii at their place. It was so much fun. The guys rocked it out on guitar hero!
Mark and I left for Jackie's house in Portland to stay with her a few days. We had a lot of fun with her dad, doggie Sadie and kitties Max and Spooky.
On the drive to the Coast, rumor was that the Badass shirts had been forgotten at home! Sigh. We put it behind us and had a great time anyways.
The weather didn't permit us to do as many walks on the beach as usual. People always ask us why we like the Oregon Coast in the winter - same reason we like Padre Island in the winter - it's beautiful even when it's cold. It's also so much less crowded too.
We played this awesome game Maria bought called, "Ticket to Ride." We were all very competitive! We tried a very hard penguin puzzle and the brothers worked on toothpick art. For Christmas, we bought Gary the most awesome kite at a small Oregon store near Lincoln City where we stayed. It was a Blue Angel plane!!! We had a lot of fun with our two kites on the beach!
That pretty much sums up our US tour. Bun has now been to almost all the places that are most special to Mark and I. We miss family and will see them again soon!