An international traveler at age 20 weeks, Bun is doing just fine. With recent visits to both grandparents and travel with work, Bun is growing bigger every day!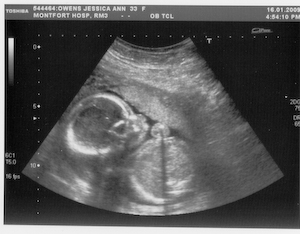 Take a look at the latest photos of Baby Bun!
We saw the baby on Friday during our 2nd ultrasound. Bun was active with lots of turning and arm and leg movements. We saw a close up of the heart and some new features like the liver growing in Bun's belly. Very cool.
Bun definitely has squeezable cheeks - maybe taking after Tia Maria? The baby is a good size and getting a healthy, balanced diet so far. I eat more fruit in a day than I ever have, and drink tons of milk too!
There's movement from Bun a few times a day now. Every time I try to get Mark, Bun stops! It's kinda funny. That will change once the movements are bigger and or noticeable through my clothing!
But at night, it gets harder to sleep with my growing belly. Lots of aches in my back and even hips already. It's not very comfortable to be out of proportion.
We can't wait to see Bun in person. Only 4 months or so to go! Can you guess Bun's name?